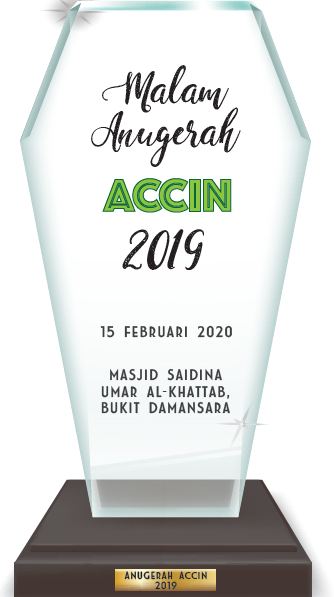 Day : Saturday
Date : 15 February 2020
Time : 7.30 pm – 10.00 pm
Venue : Dewan Utama : Masjid Saidina Umar al-Khattab
Jalan Setiabudi, Bukit Damansara,
50490 Kuala Lumpur
Target : 200 participants comprising of NGO leaders and activists.
Allied Coordinating Committee of Islamic NGOs Malaysia, a coalition of 20 Islamic NGOs will organise an awards ceremony for the best activists and the best programs held throughout 2019.
Officiating the ceremony is Datuk Seri Anwar Ibrahim, MP for Port Dickson and Parti Keadilan Rakyat (PKR) President.
Among the awards presented are:
A. Life time Achievement Award
B. Special Awards for outstanding contribution .
C. Best 1N1P (1 NGO 1 Program) program awards. Nominees are:
1. International Conference on Preventing and Countering Violent Extremism (PCVE)
2. Movie Review and Forum on Religious Values in Countering Extremism
3. Seminar Kepimpinan Negara ke Arah Kecemerlangan Masyarakat
dan Deklarasi NGO-NGO Islam Malaysia Sempena PRU-14
4. Imam & Pastor – Malaysian Tour on the Jerusalem Contention & Solidarity with Palestine
5. Wacana Sinar Harian – Suara Ketiga dalam Konteks Malaysia Baru
D. Best RTD program
E. Volunteer appreciation awards
4. The objectives of the awards ceremony are as follows:
● Exhibit and give publicity to ACCIN's programs together with members and non-Muslim NGO partners.
● Instilling competitiveness in drafting, organising and executing programs to ensure cost-effectiveness and results orientation.
● Best Program Award involves programs with ACCIN and coalition NGOs that give recognition to NGOs involved in making excellent programs throughout the year 2018/2019. It is intended to motivate ACCIN coalition members to be more active and create high quality programs that are effective.