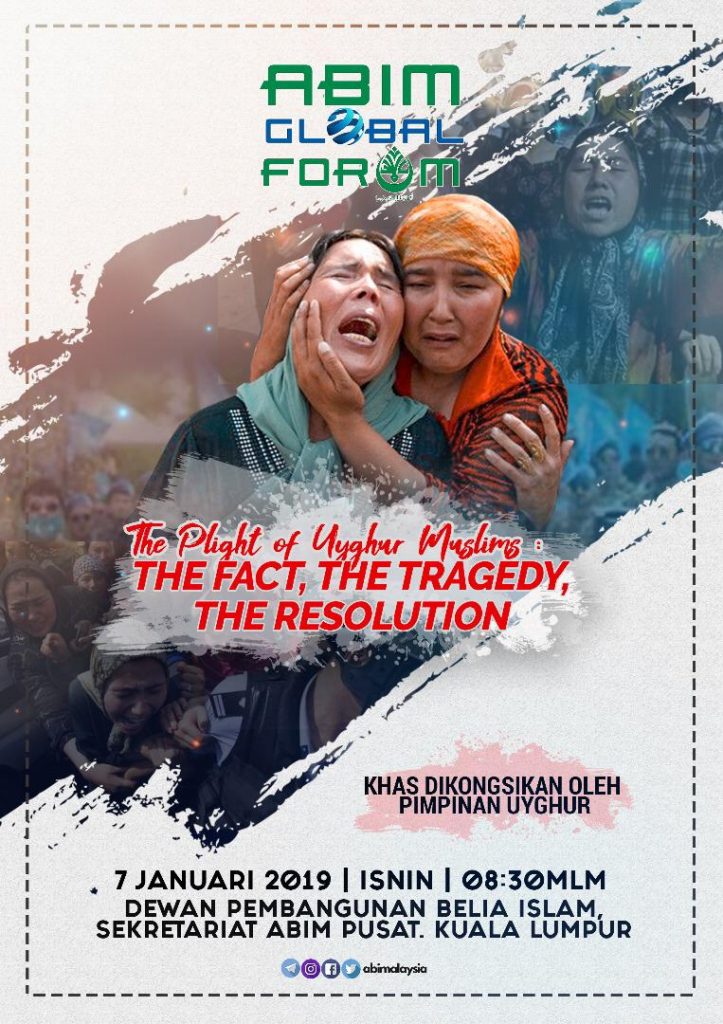 ¤ Dunia wajar membuka mata kepada isu dan kesengsaraan masyarakat Uyghur yang semakin dilupakan.
¤ Dengan begitu banyak konflik berlaku pada abad ini selain apa yang berlaku melibatkan etnik Rohingya dan rakyat Syria, Yaman & Palestine penindasan dan kesan keganasan kepada masyarakat Uyghur pula telah berlarutan berabad lamanya.
¤ Penindasan dan kesengsaraan mereka seolah-olah tidak mendapat sorotan serta perhatian sewajarnya oleh masyarakat antarabangsa.
❓Adakah sebenarnya konflik masyarakat Uyghur?
❓Apakah masih ada jalan menyelesaikan tragedi berdarah dan air mata mereka?
❓Sejauhmana peranan masyarakat dunia dalam memperjuangkan isu ini?
¤ Semuanya akan dikupas pada siri :
? ABIM Global Forum
"The Plight of Uyghur Muslims : THE FACT, THE TRAGEDY, THE RESOLUTION"
7 Jan 2019 | Isnin
8.30 malam
Sekretariat ABIM Pusat, Taman Cemerlang.
Jom bersama kami!
Daftar di nombor 0193731173.