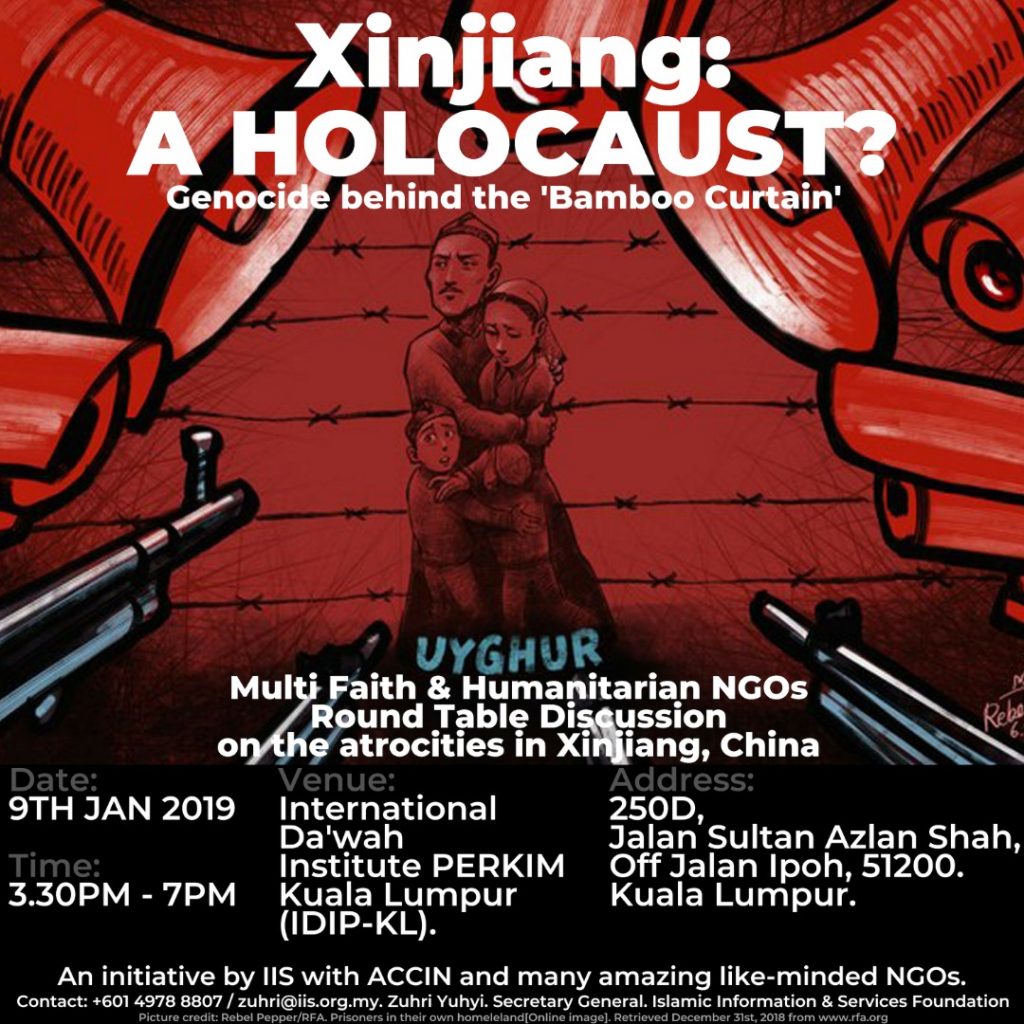 Goal:
Uniting NGOs of different faiths and humanitarian NGOs to strategically advocate the Uyghur people in their humanitarian crisis.
Topic: Xinjiang: A HOLOCAUST? Round Table Discussion
Date: 9th January 2019
Time: 3.30 PM – 7 PM
RSVP: By 7th January 2019 here https://goo.gl/forms/oGHvQ6cOj63OD61n1
Location:
International Da'wah Institute – PERKIM, Kuala lumpur. IDIP-KL @Balai Islam
250D, Jalan Sultan Azlan Shah, Off Jalan Ipoh,
Kuala Lumpur.
https://goo.gl/maps/auZDRBEyqcT2
Itinerary.
3.30 PM: Registration & Meal
4.00 PM: Welcome by Brother Engku Fauzi. Chief Dakwah Officer of IIS Foundation
4.10 PM: Presentation on Humanitarian Crisis in Xinjiang by;
1. Azril Md Amin. Chairman of MACSA, CEO CENTHRA & newspaper columnist.
Involved in organizing KL Tribunal on Rohingya genocide.
2. Muslim NGO representative.
3. Mr. Jason Leong. ANCOM Representative – Assoc of Nextgen Christians of Malaysia
4.40 PM: Solat Asar
5.00 PM: Telecon with a representative from World Uyghur Congress
5.15 PM: Round Table Discussion
6.00 PM: Draft White Paper.
7.00 PM: Session Ends
We humbly request your participation to protest against the atrocities in Xinjiang, China.
Attendance is limited to 27 representatives.
1 representative per NGO.
We look forward to discourse with you.
Peace be upon you.
RSVP: By 7th January 2019 here https://goo.gl/forms/oGHvQ6cOj63OD61n1
An initiative by IIS with ACCIN and many amazing like-minded NGOs
Contact:
Zuhri Yuhyi. Secretary-General of IIS
Email: zuhri@iis.org.my,
Mobile: +601 4978 8807.
RSVP: By 7th January 2019 here https://goo.gl/forms/oGHvQ6cOj63OD61n1